WHAT WE DO FOR YOU AND YOUR BIKE
Our specialty is providing top-quality service with a view towards promoting long-term reliability and enjoyment of your bicycle. While our focus is electric bicycles, we can do it all in our full service shop, from wheel building to overhauls to brake bleeds. We take pride in the work we do to keep your bicycle maintained for everyday use, because we believe in professional service, honest dealing, and most importantly, bicycles as transportation.
We believe sustainability means more than selling clean transportation. Sustainability means picking quality products, servicing those products as tools to be cared for, and nurturing long-term relationships with our suppliers, our customers, and the community. That is why service is the most important thing we do at The New Wheel.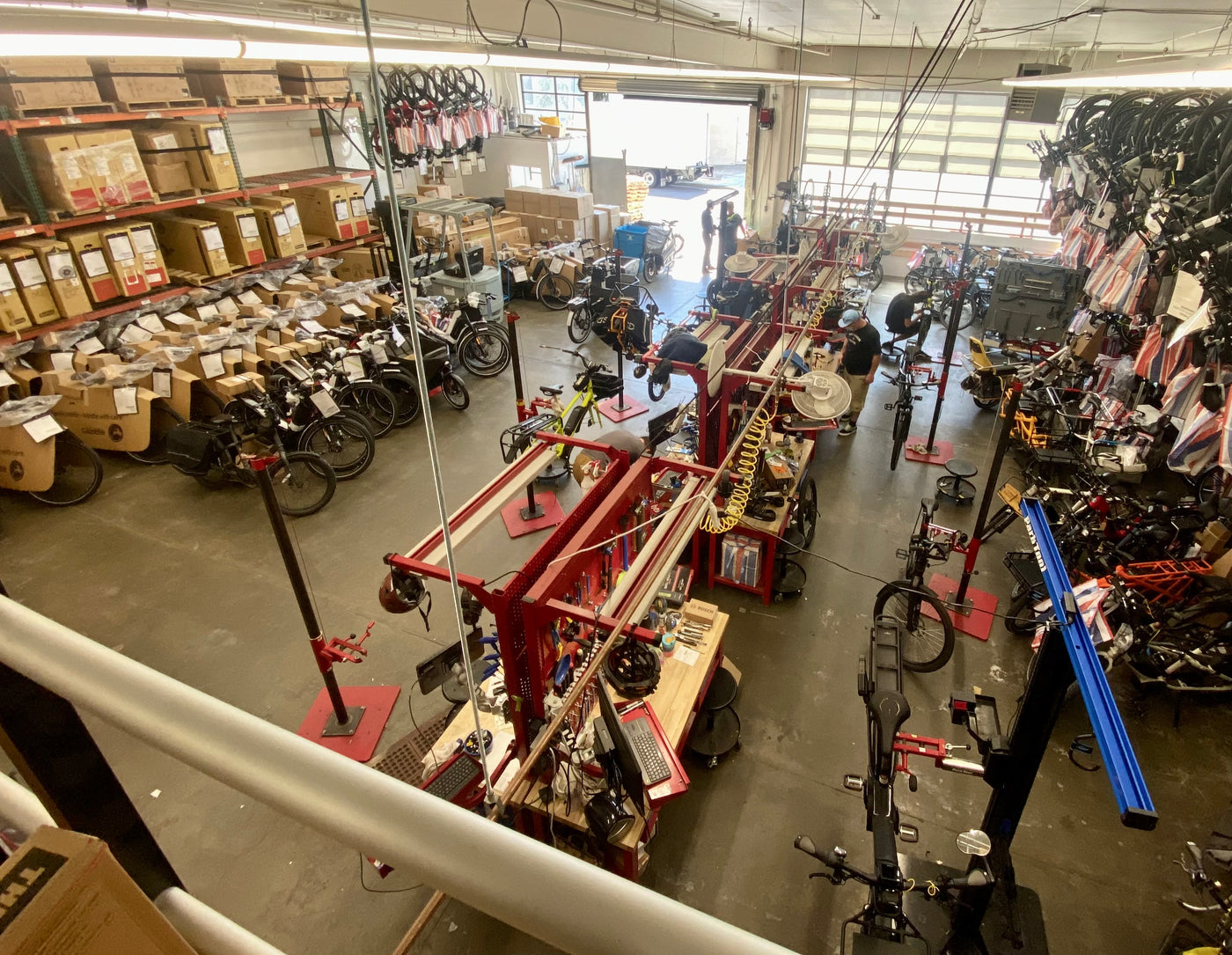 The Service Center
The heart of our service department is our 5000 square foot Service Center in San Francisco. Here a team of professional mechanics handle the most challenging service issues, larger and more complex services, and new bike building.
Service Menu
Bikes purchased from The New Wheel receive a 10% discount on all services. Schedule Service >
New Bike Tune
Included with Bike Purchase
All electric bikes purchased at The New Wheel include 6 months of complimentary service. A complimentary tune-up is recommended at least once within your first 6 months, between 200-500 miles.
Basic Service
Starts at $195
Book a Basic Service Package to get your bicycle dialed in and adjusted. Our mechanics are trained and ready to work with you on a good service plan to make sure your bicycle rides beautifully and stays in good condition for years to come.
Comprehensive Service
Starts at $295
Our Comprehensive Service Package allows us to make your bike like new again with full cleaning, full tuning and adjustment, and free installation of most parts. Cables & housing installation, brake bleeds, and suspension service is 50% off.
Other Service
Billed Based on $135/hour
Need something installed? Have an issue, concern or a problem that isn't covered in the services above? Book an "other service" and be as descriptive of your problem or request.
What service customers are saying
Ebikes are life-changing and New Wheel will sell you a good one and provide excellent service throughout its lifetime.
Use to be an avid road cyclist, so know good service when I see it! Reminds me of the intimacy of bike shops of the past.
There is clarity on their website, on the phone, and in-person. So easy to schedule service. I have had the bike picked up for service and delivered without problems. They make it so easy.
I went ahead and purchased what felt like a pricey add-on with the service agreement, and I just re-upped that agreement this month. I take my bike in because I pay ahead, helping me to remember. I always receive excellent service, and what price can you put on your bike's condition? We're a team.
The service department is excellent, and the staff is kind and engaging.
Owners Brett and Karen, and now Peter the Service Quality Manager, always reach out after each service just to check in and see if there is anything they can do to make my experience better...Gotta love this type of personal interest and care.
INCLUDED SERVICE
Bikes purchased at The New Wheel include a suite of services to help you get the most from your bke.