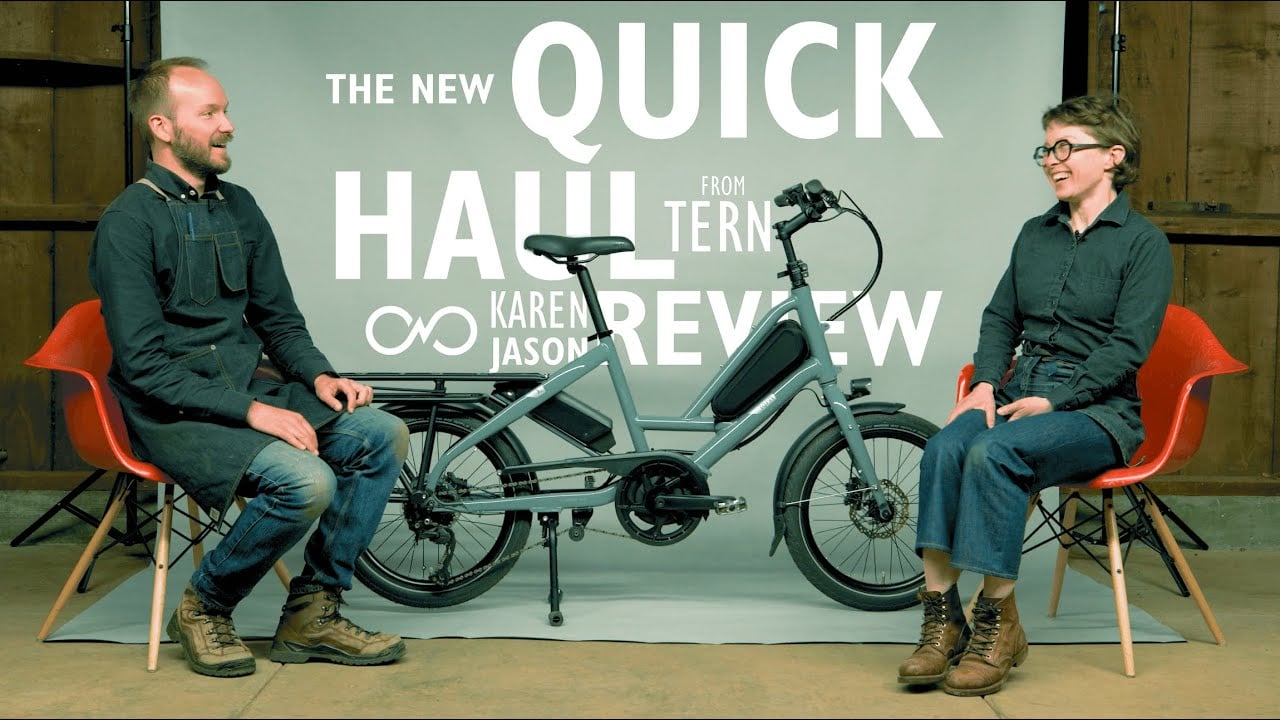 REVIEW VIDEO
OUR TAKE: THE TERN QUICK HAUL
Simply capable is the perfect phrase for the Quick Haul because it's a built-to-last compact e-bike that's ready to tackle your daily grind. Think of it as the multitool of e-bikes: small and unassuming enough to be your daily go-to, yet capable of handling big jobs with finesse.
ABOUT THIS BIKE
QUICK HAUL FEATURES
SPEED

The higher the speed rating, the more power, acceleration, and top assist speed (max 28mph) for quicker riding. The lower the level, the more leisurely paced.
High
Commute

The higher the commute rating the longer the service intervals, allowing for less maintenance overall. Bikes with a lower rating may have sportier ride characteristics but require more maintenance.
All-Terrain

Bikes rated higher in this category allow for riding anywhere across any terrain. Suspension, quick handling, and appropriate quality components define all-terrain electric bikes.
Battery Range

The higher the rating, the longer the max range on a charge. Higher range is accomplished with larger capacity batteries paired with efficient drive systems.
Cargo

Bikes rated higher have increased carrying capacity to haul cargo but also stronger drive systems to make the journey enjoyable, no matter how steep the hill or heavy the load.
Family

Higher rated family bikes can easily handle the everyday reality of life with one, two, or even three children no matter how old or young.
Optional Upgrade
CARRY IT ALL
The rear rack easily carries a kid and cargo with a weight limit rating of up to 110lbs. Add an optional front rack for an additional 44lbs of cargo.
FITS RIDERS FROM 4'11" TO 6'5"
How can one bike fit such a range of people? By making the stem and seatpost highly adjustable. Get one bike for multiple riders without sacrificing quality, style, or comfort.
CHILD SEAT READY
Attach a Thule® Yepp Maxi, Yepp Nexxt Maxi, or Bobike® GO Maxi child seat—no adapters needed. For older kids and adults use the Captain's Chair for a luxuriously comfortable ride.
CUSTOMIZE YOUR PERFECT SETUP
Tern's versatile line of accesories is at your disposal to make your bike fit your life perfectly. Easily add panniers, child seat, cargo boxes, front rack and so much more.
FITS IN TINY SPACES
Most cargo bikes are big and hard to store, but Tern bicycles are unique. They can easily go vertical (think elevators and closets) for ultra slim storage. If you have tight space requirements then the QuickHaul is the perfect bike for you.
the new wheel advantage
SERVICE AND SUPPORT
We are dedicated to support you and your Tern Quick Haul for years to come with exceptional service. Our job is to keep you on the road and we hold that responsibility close to our heart.
The team at New Wheel is awesome from sales to service....everyone is there to meet your needs while doing it with a smile, kindness and respect.  They know my name, greet me and it feels like I'm visiting a good friend. 
Props to The New Wheel for ensuring this team of remarkable individuals is supported in ways which foster a 'relationship-based' environment while empowering all to provide such wicked-great service.
Thanks, New Wheel!  So so glad I took this plunge with you all.
The best ebike shop in the city hands down. The staff is friendly, supportive but never pushy. Make sure to book an appointment online and give yourself lots of time to test ride.
Everyone I interact with,  whether it's on the phone, in email or in person, is friendly, responsive, dedicated and highly  knowledgeable. This is not your average ebike shop. This is the BEST ebike shop.