Bosch Motors
Renowned reliability and performance earn Bosch a fond place in our hearts. They are the leading motor system in Europe and the main motor system featured in our bike selection. Bosch built on Panasonic's visionary mid-drive motor development, taking an efficient and reliable design and going further. By adding more sensors (torque, cadence, and speed), a single chainring design, and designing an advanced handlebar console, Bosch has created a reliable, fine-tuned, and powerful motor that's sure to take you wherever you need to go.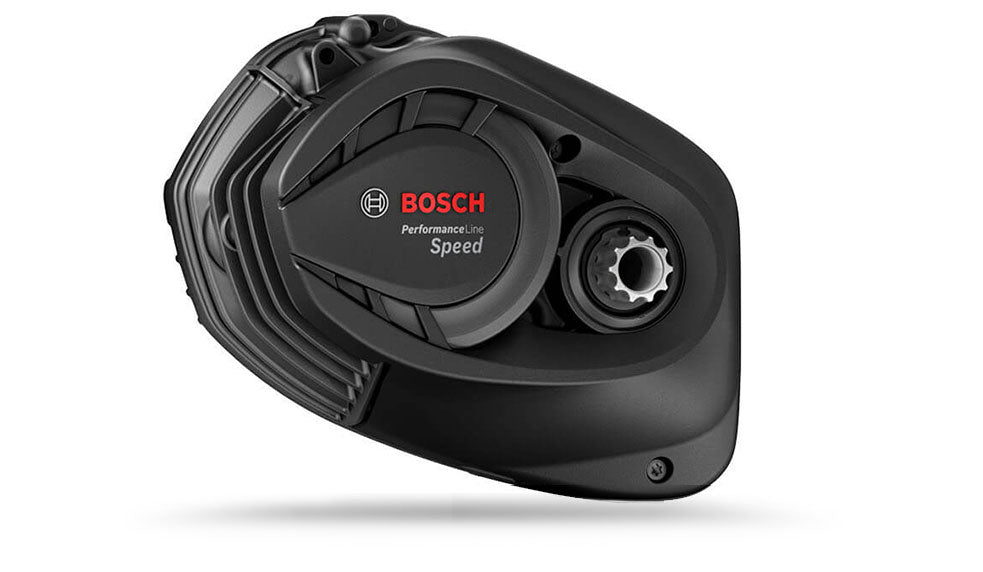 4th Generation
PERFORMANCE LINE SPEED
The Performance Line Speed motor will make the city yours to explore! Featuring a perfect blend of speed and power, the Performance Line Speed motor was updated in early 2021, giving it a whopping 85 Nm of torque! Paired with smooth and quick acceleration up to 28 mph, this motor sets a new standard for Bosch and your ability to flatten the city. The 4th generation Bosch motor builds on the successes of the previous generations, giving you more power in a lighter, quieter package.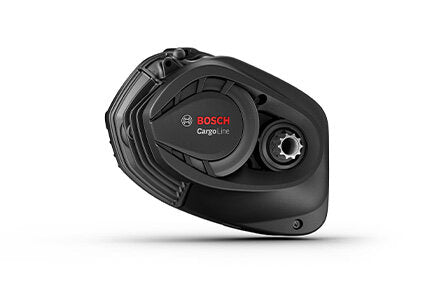 4th Generation
CARGO LINE CRUISE & SPEED
If you're hauling kids, doing large grocery runs, or making deliveries, you need a motor that's going to support you no matter how much is on the back of your bike. The new Cargo Line, specially designed for cargo bikes, makes the steepest hills feel easy- even with your precious cargo.
Effective even at low cadences, the best-in-class 85nm of torque will power you up whatever hill is between you and home. The efficient Cargo drive unit will smoothly accelerate up to 20 mph or, as a speed variant, up to 28mph. Best paired with Bosch's DualBattery system, this motor is sure to deliver for the whole family.
4th Generation
Performance CX LINE
The most powerful drive from Bosch for ambitious riders is particularly lightweight, compact and is extremely powerful and efficient. The new Performance Line CX (MY20) accelerates extremely powerfully, responds without delay and features convincing agile handling and even more control.
With up to 340% of perfectly delivered support and dynamic responsiveness, it pushes the joy of eMountain biking to the next level. That's what we call: double the fun.
3rd Generation
PERFORMANCE LINE
The Bosch Performance motor system can put out up to 75Nm of torque and a top assist speed of 28 mph. The Performance Speed motor features a composite shell and has been recognized with the Red Dot Award for outstanding product design.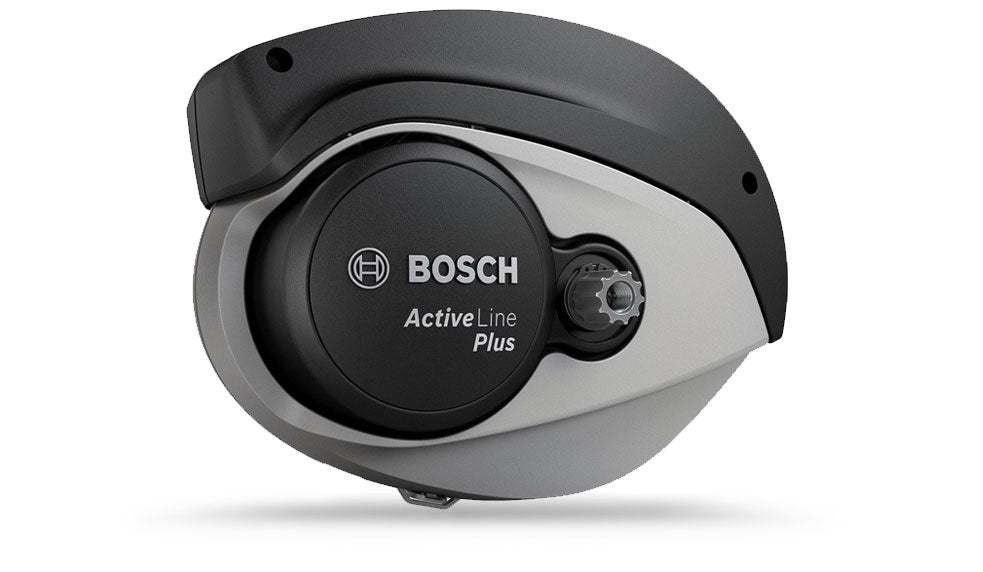 3rd Generation
ACTIVE LINE PLUS
The new Active Line Plus offers up to 50 Nm offers of pure, natural riding enjoyment. Perfectly integrated into the frame - the silent, lightweight drive engages seamlessly with your pedaling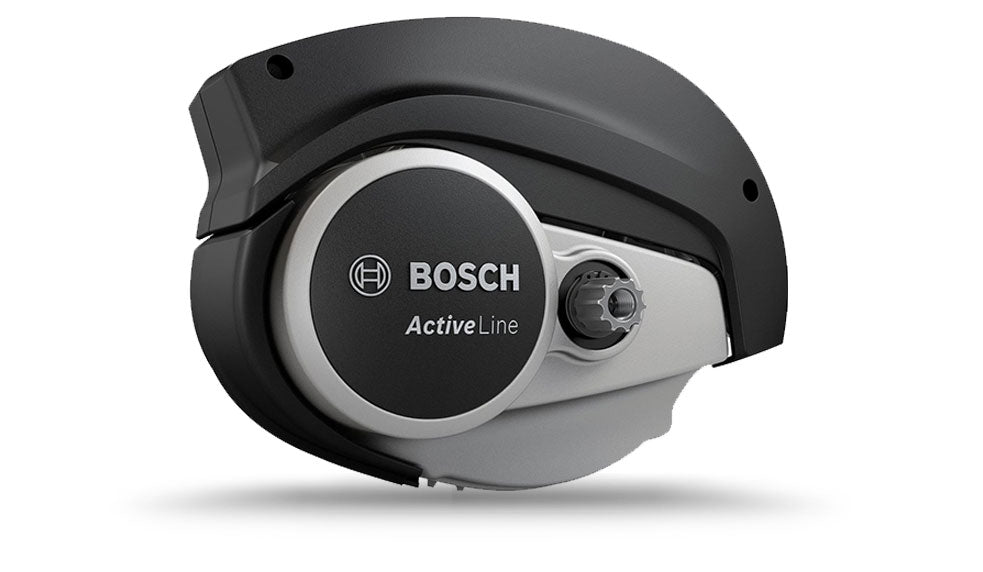 3rd Generation
ACTIVE LINE
The Active Line drive is designed for casual, comfortable cruising and pairs particularly well with bikes equipped with an internally geared rear hub. Featuring the full suite of sensors - including cadence, speed, and torque, the Active Line offers great hill climbing at 40 Nm of torque, perfect for mild to moderate hills. The Active Line drive offers a maximum assist speed of 20 mph.
Bosch Batteries
Of course, no motor system can operate without a powerful and long-lasting battery setup! Bosch has plenty of battery options for riders of all kinds. Whether you're looking to take a quick trip to the store or planning a day-trip into the hills, there's a battery setup that will help you get there and back with ease.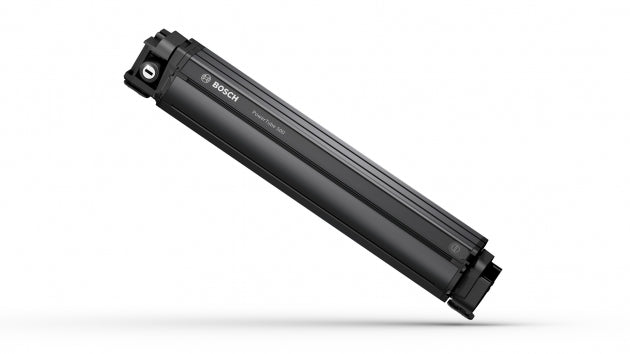 Powertube Battery
The Powertube Battery combines long-lasting support with a sleek, disappearing design to make sure your battery is protected and ready for long rides. The lithium-ion battery is available on bikes in three different capacities; 500 Watt Hours(Wh), 625Wh, and 750Wh. The Powertube is integrated into the frame of the bike, maintaining a clean look and reducing the obviousness of the battery. Well protected from theft, these batteries will reliably give you 20-45 miles of range (500Wh), 30-60 miles of range (625Wh), or 35-70 miles of range (750wh)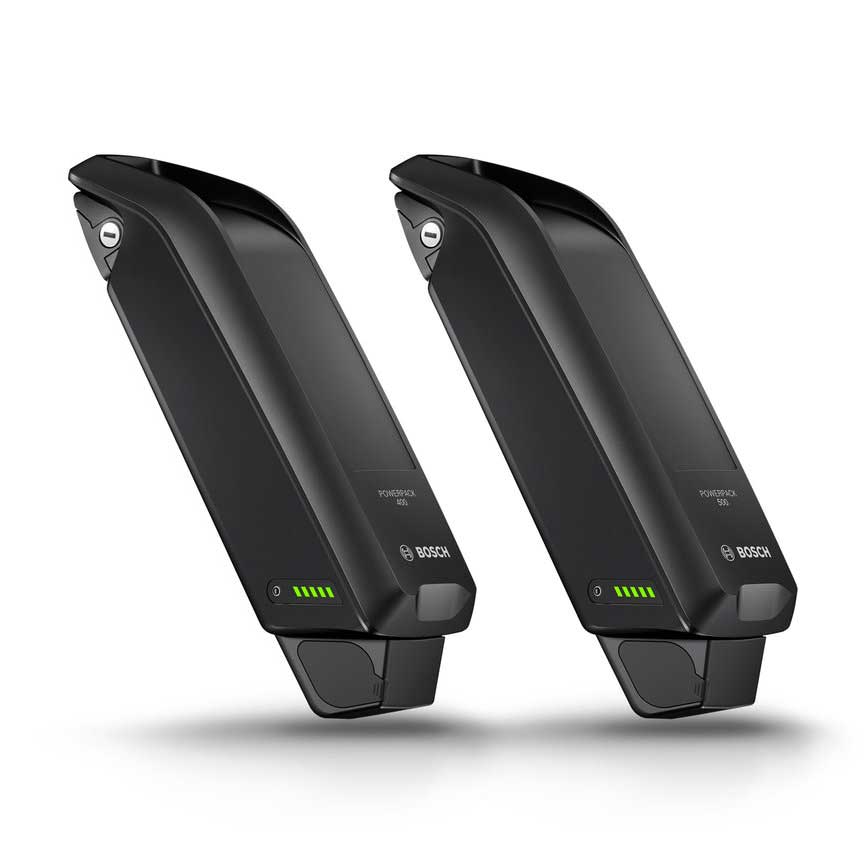 POWERPACK BATTERIES
Looking for a lighter battery that's easily removable and swappable? The Powerpack has you covered. Available in a 400Wh, 500Wh, and 745wh configuration, these battery packs are more compact, mounted on the frame for simple removal and storage. For the quick commuter, the 400Wh battery will let you commute with ease, and even stop at the store on the way home. For the explorers, 500Wh or 745wh should give you everything you need to conquer the most remote San Francisco hills. These battery packs are easy to carry in a pannier, and many of our customers have found it very helpful to buy an extra for longer trips, swapping out on the go!
BOSCH DUAL BATTERY
Range is always going to be the defining statistic for electric vehicle travel. The Bay Area is huge, and for those looking to see every sight from their saddle, one battery isn't going to cut it. Enter Bosch's Dual Battery systems: doubling your range and guaranteeing you'll always make it home. Available on a wide range of our bikes, doubling up on battery power means you're always ready.
Bosch Displays
The display is your interface with your electric bike system. Displays can be simple and understated, or full color touchscreens that give you full control, mapping, etc. With Bosch, you can even use your smartphone as a console.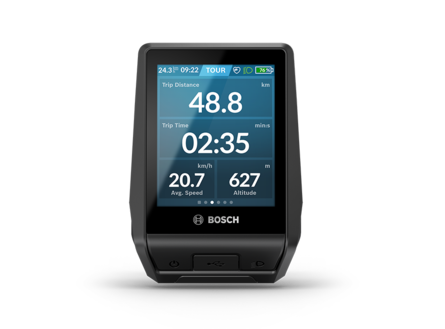 Nyon Display
The Nyon is the perfect companion for embarking on your fully connected eBike experience. Nyon connects to your smartphone with the eBike Connect app and exchanges data about routes and activities. The color display serves as an intelligent guide when you are exploring new places and as your personal trainer by providing you with fitness data.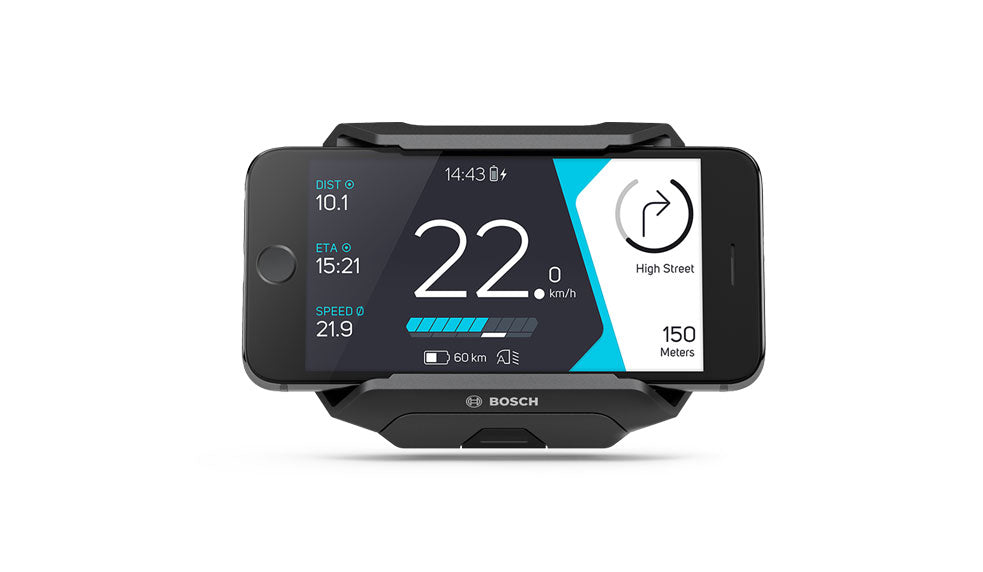 Smartphone Hub
The SmartphoneHub syncs your ebike with your life - offering fitness tracking, music streaming, weather forecast. The smartphone app turns the SmartphoneHub into an intelligent control center for navigation, recording activities and connection to other services. Your ebike can be started and ridden without a smartphone. The integrated display in the SmartphoneHub shows the most important riding data.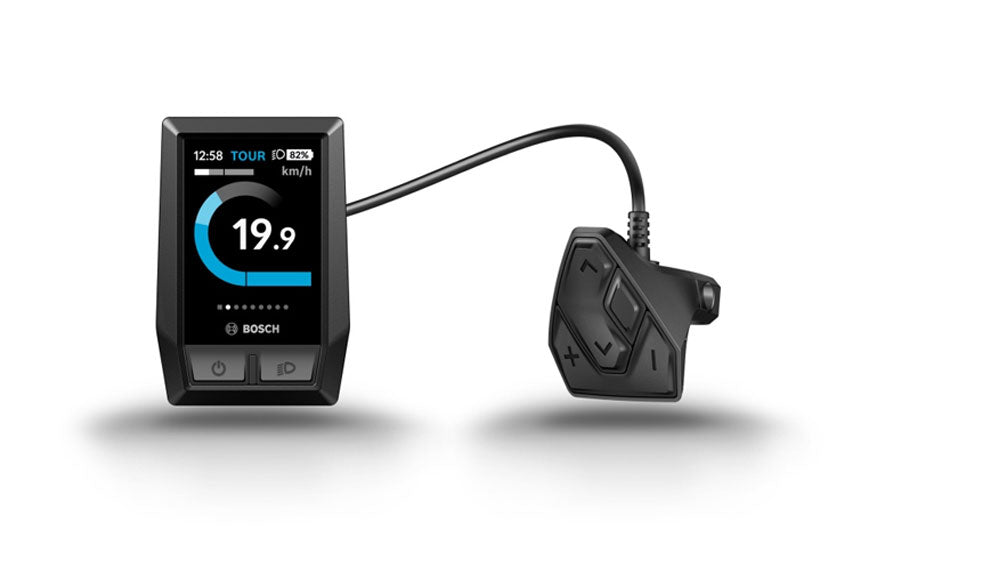 Kiox Display
Kiox is the on-board computer for ambitious sporty riders. Kiox has all the classic functions of an on-board computer, while at the same time giving you access to the digital world via the smartphone app. The colour display gives you all riding data at a glance, while the separate control unit allows you to stay in control of the handlebars and keep an eye on the terrain. Kiox can record your trips and send all the relevant data via the smartphone's Bluetooth connection to the eBike Connect online portal. This makes Kiox your perfect companion on every ride.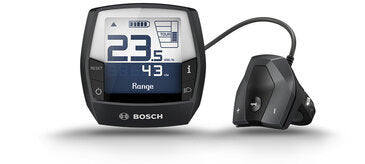 Intuvia Display
The Bosch Intuvia display consists of a thumb controller and a larger console mounted at the middle of your handlebar. You can select between four levels of assist and no assist. You can also track your trip computer settings, see how much further, in miles, you have on a charge, and track your speed.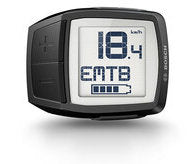 Purion Display
The Purion is a simple 2-in-1 electric bike controller and console - putting everything you need to monitor and control your bike in one simple package. Scroll through your current speed, assist level, range estimate, and more with the click of a button. A non-glare backlit display makes information easy to view.